Foreword : Posters as Weapons by Fawwaz Traboulsi
Preface
Acknowledgments
PART I   THE POSTER IN CONTEXT
Introduction : Political Posters as Symbolic Sites of Struggle
Graphic Chronologies
Ch. 1 : Agents, Aesthetic Genres and Localities
PART II  THEMES, ICONS and SIGNS
Ch. 2 : Leadership
Ch. 3 : Commemoration
Ch. 4 : Martyrdom
Ch. 5 : Belonging
Notes
Bibliography
Poster Credits
Index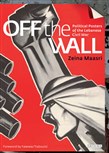 Published by I.B.Tauris, London 2009.
Foreword by Fawwaz Traboulsi
204 pages (including 64 colored)
ISBN: 978 1 84511 951 5
REVIEWS
Maasri's contribution lies not only in presenting us with the first scholarly book that offers a theorized and systemic
analysis of the political posters of the Lebanese civil war but also in undertaking the arduous task of tracking down,
collecting, and digitally archiving hundreds of posters that may be used in future studies. Off the Wall is bound to
engage students and scholars from various disciplines, including visual culture, anthropology, art history, graphic design,
and political science, as well the general reader interested in learning about the dynamics of internecine conflicts,
outside interventions, and the merging of ethics and aesthetics in wartime Lebanon.
read review
Nadine Sinno, H-Levant (H-Net)
Zeina Maasri's new book, Off the Wall, is the first sustained study of Beirut's poster wars, and the first serious and comprehensive investigation of the way that fifteen years of fighting left an indelible mark on the city's visual culture - one that persists to this day.
read review
Kaelen Wilson Goldie, The National, Abu Dhabi, 2/1/2008, pp.8-9.
Zeina Maasri's book is a key intervention in studies of visual culture and mass media in the Middle East.
read review
Sune Haugbolle, Arab Studies Journal; Vol. XVIII No. 1, Spring 2010; pp. 334-43.