ONLINE EXHIBITION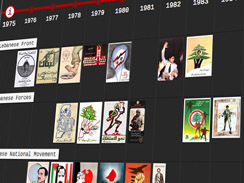 The Signs of Conflict exhibition has been adapted for online viewing on this site. This interactive exhibit displays selected posters from the archive along two distinct viewing schemes:
Graphic Chronologies
A chart that presents a multi-layered chronology of the war through posters published by the different political factions.
Themes, Icons & Signs
Organized thematically according to four dominant themes in wartime Lebanon: Belonging, Commemoration, Leadership and Martyrdom.
ABOUT THE EXHIBITION
Signs of Conflict exhibition traces the deployment of political discourse in visual culture characteristic of Lebanon's wartime conflict(s). It examines the political posters that were produced by the various warring factions, political parties and movements in Lebanon between 1975 and 1990. It is premised upon the idea that the posters unfold the narratives of the prevailing political conflicts while providing insights into modern Arab visual culture.
Lebanon's civil war is a complex case where local socio-economic and sectarian struggles, linked with regional politics, characterized political discourses and distinguished the numerous warring factions. That, in turn, materialized in the production of an equally complex plethora of political posters, with antagonistic discursive frameworks, conflicting significations, as well as distinct aesthetic practices.
OTHER EXHIBITIONS
We welcome other prospective online exhibits that make use of this archive based on new ideas and curatorial frameworks. If interested please
contact us
for submitting proposals and for further inquiries.