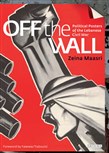 Published by I.B.Tauris, London 2009.
Foreword by Fawwaz Traboulsi
204 pages (including 64 colored)
ISBN: 978 1 84511 951 5
REVIEWS
Off the Wall is important for design historians because it is one of the very few texts to discuss design in the modern Middle and Near East.
read review
Victor Margolin, Journal of Design History; (2009) 22 (4); pp. 426-428.
Zeina Maasri's book is a key intervention in studies of visual culture and mass media in the Middle East.
read review
Sune Haugbolle, Arab Studies Journal; Vol. XVIII No. 1, Spring 2010; pp. 334-43.
Maasri argues that civil wars challenge the ways we conventionally
think about graphic propaganda.
read review
David Crowly, Eye, The International Review of Graphic Design, no.72, Summer 2009, pp.91-92.